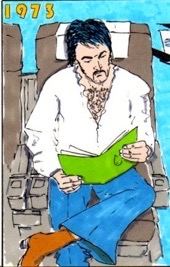 Spencer Haze does not have an i-thingy or a Kandle and still reads real books made of paper. So scroll down the books he is reading and you can even buy them.
Bangernomics Books and Books by James Ruppert
Here are lots of great books you can buy on Bangernomics and others about automotive history and how to buy used cars. Very happy to sign and put a dedication on the books, just let me know what you want. Prices are inclusive of postage and packing where relevant, so if you live outside the UK, contact us for a quote. [email protected]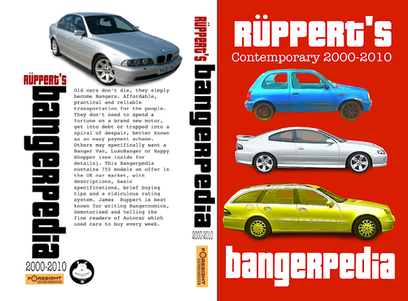 Ruppert's Bangerpedia 2000 – 2010
Old cars don't die, they simply become Bangers. Affordable, practical and reliable transportation for the people. They don't need to spend a fortune on a brand new motor, get into debt or trapped into a spiral of despair, better known as an easy payment scheme. Others may specifically want a Banger Van, LuxoBanger or Happy Shopper (see inside for details). This Bangerpedia contains 755 models on offer in the UK car market, with descriptions, basic specifications, brief buying tips and a ridiculous rating system. Not every car produced in the 2000 to 2010 period, but the ones I think are Bangers or perhaps that you should steer clear of. I will have limited numbers that you can buy directly from me (email me [email protected] for availability) and also a digital PDF version that I will send you a download link to once you pay. I may have some paperbacks which I am happy to sign. It is £12.99 which I think undercuts the evil Amazon empire. If I have run out of books I will let you know how long it will take to get a copy to usually a couple of weeks tops. I have run out so please email me to reserve your copy. Thanks.
Bangerpedia PDF £2.99

Bangerpedia Signed Book £12.99 (ask me first, I may have one in stock…I don't have any at the moment)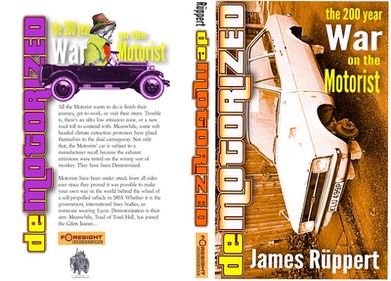 Demotorized
Cars, allow people to be free. They use them for work, to go on adventures and help others. Their force for good outweighs any downsides, yet owners have been relentlessly persecuted by the authorities despite being law abiding and conscientious. The motorist has therefore been a very easy target for taxes and the blame for everything from that new fangled climate emergency thing to the overall decline in the quality of life. That's unfair. Here is a history of all that when it comes to speeding, parking, taxation, fuel prices plus the growing agenda to get everyone into battery cars plus the sinister rise of the Robot Car and the unscientific demonisation of the car. It isn't just governments, but greedy car manufacturers, biased pressure groups and the United Nations. This is going to be a very bumpy ride.
Now updated with a Chapter all about 2020, the year we actually became Demotorized.
It is a 320 odd page book that you can buy on Amazon and elsewhere for £9.99. I may have a copy for a dedication, but contact me direct. However, if you want a PDF that you can read on a computer or any device that can read PDFs then simply click on the button below and I will email you a Drop Box link to a Zip File which you can download. 
Demotorized PDF £1.99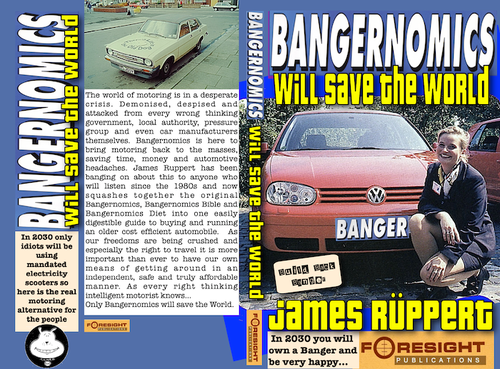 Bangernomics will save the World
The world of motoring is in a desperate crisis. Demonised, despised and attacked from every wrong thinking government, local authority, pressure group and even car manufacturers themselves. Bangernomics is here to bring motoring back to the masses, saving time, money and automotive headaches. James Ruppert has been banging on about this to anyone who will listen since the 1980s and now squashes together the original Bangernomics, Bangernomics Bible and Bangernomics Diet into one easily digestible guide to buying and running an older cost efficient automobile.  As our freedoms are being crushed and especially the right to travel it is more important than ever to have our own means of getting around in an independent, safe and truly affordable manner. As every right thinking intelligent motorist knows only Bangernomics will save the World. I will send you a Bangernomics Bible PDF with this so you will get two books for just two quid.
Bangernomics will save the World PDF including Bangernomics Bible PDF £2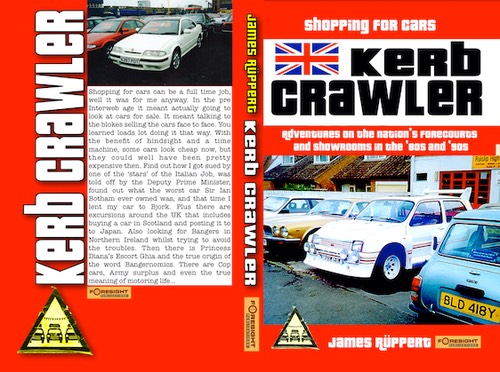 Kerbcrawler 
Shopping for cars can be a full time job, well it was for me anyway. In the pre Interweb age it meant actually going to look at cars for sale. It meant talking to the blokes selling the cars face to face. You learned loads lot doing it that way. With the benefit of hindsight and a time machine, some cars look cheap now, but they could well have been pretty expensive then. Find out how I got sued by one of the 'stars' of the Italian Job, was told off by the Deputy Prime Minister, found out what the worst car Sir Ian Botham ever owned was, and that time I lent my car to Bjork. Plus there are excursions around the UK that includes buying a car in Scotland and posting it to to Japan. Also looking for Bangers in Northern Ireland whilst trying to avoid the troubles. Then there is Princess Diana's Escort Ghia and the true origin of the word Bangernomics. There are Cop cars, Army surplus and even the true meaning of motoring life. You can buy physical copies .e…I 
Kerbcrawler PDF £2.00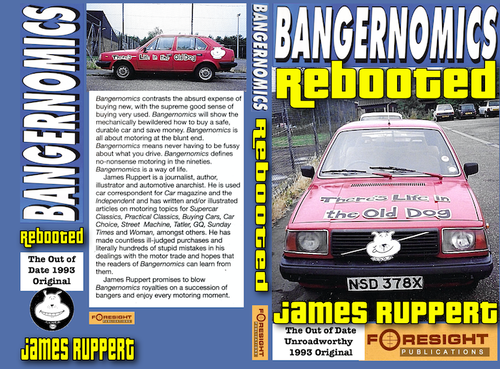 Bangernomics Rebooted PDF
The original Bangernomics came and went, but don't worry the original has been rebooted. It is of very little help to car buyers as everything is out of date but it is an interesting period piece from a very long time ago. The covers have been redrawn, but otherwise you have all the original silly illustrations and Slog the Bangernomic Dog in all his glory. It's a PDF (printed book coming soon) that you can read on a computer or any device that can read PDFs then simply click on the button below and I will email you a Drop Box link to a file. In 1993 it was £5.99 now it costs a measley £1.99 ( You can buy a printed edition via Amazon for £8.99, or get a signed one from me for £9.99, just two available at the moment with the old cover.
Bangernomics Rebooted PDF £1.99

Bangernomics Rebooted Signed Book £9.99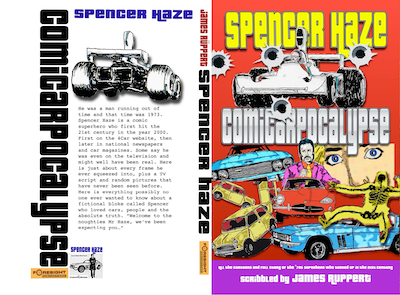 Spencer Haze Comicarpocalypse
He was a man running out of time and that time was 1973. Spencer Haze is a comic superhero who first hit the 21st century in the year 2000. First on the 4Car website, then later in national newspapers and car magazines. Some say he was even on the television and might well have been real. Here is just about every frame he ever squeezed into, plus a TV script and random pictures that have never been seen before. Here is everything possibly no one ever wanted to know about a fictional bloke called Spencer who loved cars, people and the absolute truth. There are a couple of full stories, loads of articles he appeared in. There is a PDF download for £1.
Spencer Haze Comicarpocalypse PDF £1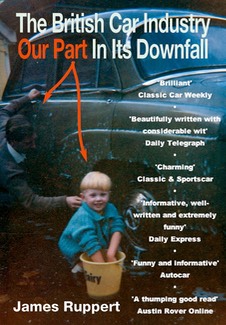 The British Car Industry Our Part in its Downfall
(Book and EBook Below)
It is the true story of what happened to the British Car Industry from 1945 until it effectively ended with the implosion of MG Rover in 2005. It occurred to me that my Dads car owning, driving and buying history (from a Triumph Mayflower to a VW Golf) was a great way of injecting some social history into it all. I also wondered whether his decision in the 1970s to buy an Audi triggered the downfall, or was it the inept motor industry management, stupid commie unions or meddling governments. I think we know the answer, but it is fun finding out and there some good stories along the way. There are also tons of small black and white pictures of cars and people from the era, plus all the cars that my Dad bought. Many of the cars featured have become Bangernomics legends. Essentially you do not need to be a petrolhead to enjoy it, so buy it for your mum, dad or uncle for Christmas.
The slightly revised E Book version of The British Car Industry Our Part In Its Downfall, with new pictures, layout and a few other bits and bobs tidied up. Buy it for just £2.99 and then I will email you a Drop Box link to a zip file (4.0mb) which becomes a PDF that you can read on your computing, mobile or tablet device. Just have a couple of printed editions and if you want a special message then let me know.
The British Car Industry Our Part in its Downfall Signed Book £12.99 (Just two left)

The British Car Industry Our Part in its Downfall PDF £2.99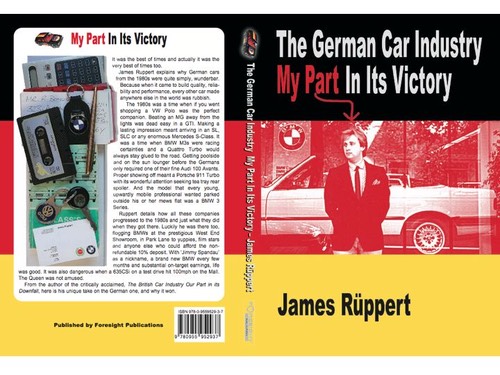 The German Car Industry My Part in its Victory
Best Motoring Book 2011 Winner of the Mercedes-Benz Montagu of Beaulieu Trophy
James Ruppert explains why German cars from the 1980s were quite simply, wunderbar. Because when it came to build quality, reliability and performance every other car made anywhere else in the world was rubbish.
The 1980s was a time when if you went shopping a VW Polo was the perfect companion. Beating an MG away from the lights was dead easy in a GTI. Making a lasting impression meant arriving in an SL, SLC or any enormous Mercedes S-Class. It's a time when BMW M3s were racing certainties and a Quattro Turbo would always stay glued to the road. Getting poolside and on the sun lounger before the Germans only required one of their fine Audi 100 Avants. Proper showing off meant a Porsche 911 Turbo with its wonderful attention seeking tea tray rear spoiler. And the model that every young, upwardly mobile professional wanted parked outside their mews flat was a BMW 3 Series.
Ruppert details how all these companies progressed to the 1980s and just what they did when they got there. Luckily he was there too, flogging BMWs at the prestigious West End Showroom, in Park Lane to yuppies, film stars and anyone else who could afford the non-refundable 10% deposit. With 'Jimmy Spandau' as a nick name, a brand new BMW every few months and substantial on target earnings, life was good. It was also also dangerous when a 635 CSi on a test drive hit 100mph on the Mall. The Queen was not amused.
From the author of the critically acclaimed, The British Car Industry Our Part in its Downfall, here is his unique take on the German one, and er, why it won.
The German Car Industry My Part in its Victory Printed and signed book £14.99 (sold out)
The German Car Industry My Part in its Victory PDF £1.99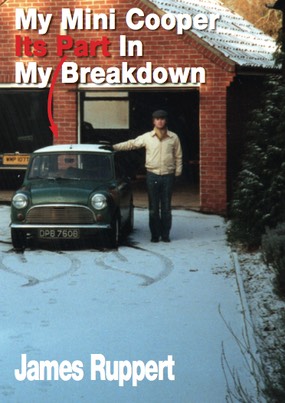 My Mini Cooper its Part in My Breakdown
Here for the first time is a short history of the small car from 1885 to 2000 and an examination of what came before, during, but not after the Mini, including the fairly complete story of the Mini and Mini Cooper from 1959 to 2000.
James Ruppert is not used to spending very much money on cars, so when he decided to finish the restoration of his 1964 Cooper, started in 1979, the bills started to mount up and mentally he started to fall apart.
Bought for £200 and a bottle of wine, it would eventually cost almost one hundred times that finish. Serial Mini owner James Ruppert explains how not to buy, run or restore a classic car, and why owning one might be some form of unwellness. He's a man who can't be trusted with an old car, but can be relied upon to explain how the Mini came about and what it was up against throughout the decades.
From the author of the critically acclaimed, The British Car Industry Our Part in its Downfall, and the Mercedes Montagu of Beaulieu winning The German Car Industry, My Part in its Victory, here is the full story of his seriously mistreated Mini and how the small car came to rule the world.
Oh yes and. The distinctive Mini Binnacle pops up when Ruppert tries to restore his Cooper. At a glance you will be able to gauge (geddit?) just how complete the Cooper is, how interested he is in it and just how much money he is sinking into what sometimes seems like a lost cause.
This book can also be found at all the usual online booksellers like Amazon and Play and the ISBN is 978-09559529-5-1
My Mini Cooper its Part in My Breakdown PDF £1.99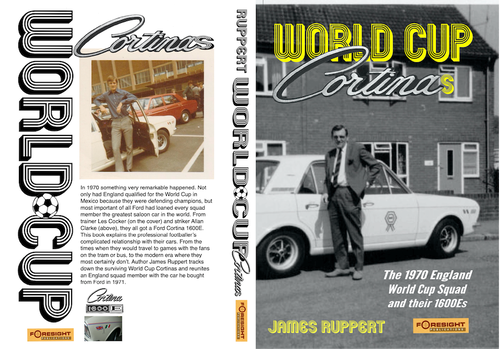 World Cup Cortinas
NOTE: There are now two versions of the book. There is the original with Bobby Moore and Martin Peters and several other images that belonged to the copyright holders and the licence has now expired. I do have some hard copies available at £9.99. In 2021 a revised version with the great Les Cocker on the cover is available to buy from online retailers and if you specifically request it a PDF version.
Whatever happened to the 1970 World Cup Squad's Ford Cortina 1600Es? And how footballers bought better cars when they earned more money and no longer owned the same motors that your mum and dad drove.
In 1970 something very remarkable happened. Not only had England qualified for the World Cup in Mexico because they were defending champions, but most important of all Ford had loaned every squad member the greatest saloon car in the world. From Gordon Banks at the back to Geoff Hurst at the front they all got a Ford Cortina 1600E.
So what we have here then is a truly confusing book. It's slightly about football, but also about cars too. Footballers and cars. Footballers and their cars.
Superficially it seems that as footballers became better paid, the games became less interesting and their names much harder to pronounce. From essentially being working class grafters whose first car was the same bus as the fans used to get to the ground, they seem to have become prima donnas with cars that cost more than most supporters could reasonably earn in a year, a decade or possibly a lifetime.
Here awarding winning motoring writer and one footed, right sided goal hanger James Ruppert (Walthamstow Inter Estate League Cup Winner 1975) explains the professional footballer's complicated relationship with their cars. From the times when they would travel to games with the fans on the tram or bus, to the modern era where they most certainly don't. And also why there's a car park full of supercars where the meat pie and programme sellers used to be. He also tracks down the surviving World Cup Cortinas and reunites a squad member with the car he bought from Ford in 1971.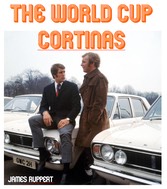 World Cup Cortinas original paperback £9.99

World Cup Cortinas PDF £1.99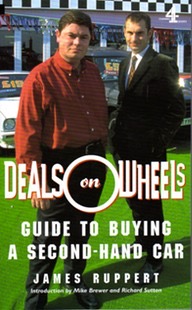 Deals on Wheels
You might remember Channel 4s really quite good TV show of the same name. I was slightly involved with it for bit and even got a poncey executive producer title at one point. First though I wrote the book of the series in 1999. Sadly I did not make the cover though Mike Brewer and Richard Sutton did. It is still quite useful with How To Buy type information and a review of the top 50 used buys in different categories. So there are a lot of 80s and 90s icons (Rover 200, 911, Mini and other Bangernomics legends) plus buying checklists. Relive the 90s for just £5.99 although it actually cost £7.99 back then so you are up on the deal which was the whole point of the book. There are not many left, so hurry while stocks last.
Deals on Wheels paperback book £5.99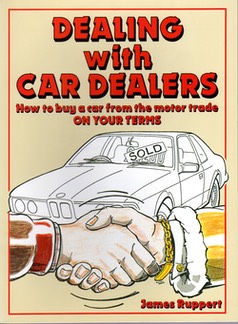 Dealing with Car Dealers
In 1987 I wrote this book detailing for the first time how new and used car dealers operated. I must admit that it all looks a bit dated now, but it does contain information about negotiations and getting a good deal that is still relevant. Incredibly for one of my books it was reprinted and so I do have some spare as new copies, though not that many. It cost a mere £2.95 back then and I am not asking much more now. Indeed for just £4.99 I will stick it in an envelope if you click on the button below.
Dealing with Car Dealers paperback book £4.99